Managing a project to completion is a challenging endeavor. Today's projects are complex, span multiple years, and use partnering and/or contracting structures tailored to meet unique project requirements. Effective project risk management is a critical driver of success. To ensure all risk is recognized, teams must consider project interfaces in their project schedules and identify any discrepancies.
Risk mitigation in project management requires the consideration of all activities and milestones in your schedule, with a strong focus on collaboration and control of project interfaces. Any unknown schedule discrepancies can put your project at risk.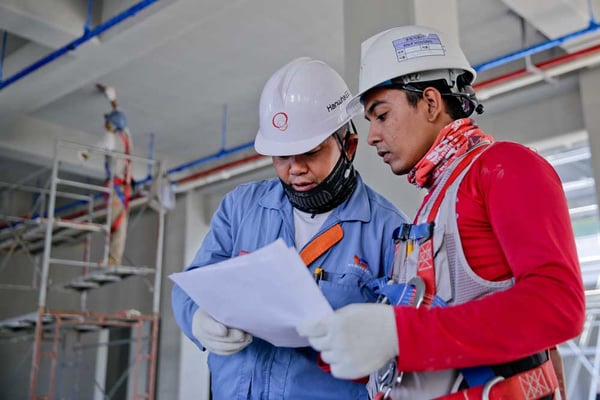 Be Alert for Potential Interface Risks
The contracting strategy used by owners of today's medium-to-large-scale projects typically results in multiple scope packages awarded to several contractors dispersed geographically. This strategy's objective is to minimize technical, resourcing, quality, and delivery risks to the overall project.
While well-meaning, these contracting strategies create additional project risk by forming project interfaces and dependencies between the various scopes of work and making the contractors responsible for delivery. Managing these interfaces, the stakeholder relationships, and the interactions related to interface deliverables is the discipline of interface management.
The Construction Industry Institute reported the average cost overrun increase for projects without formal interface management is 18%. As such, projects are being pushed to effectively manage interfaces from early planning and Front End Engineering and Design (FEED) through construction, commissioning, and handover to operations in order to mitigate risks and deliver business value.
What Is Interface Management?
"Interface Management is a project management and systems engineering management discipline applied to address the risk associated with project interfaces and the interactions they require – both internal to the project and between external entities influencing the project."
Michael Bible and Susan Bivins,
Project Interface Management - Reducing Risk on Major Projects
Interface management on projects starts with the identification of interface points early in the project life cycle for each scope package. Interfaces may be physical, commercial, or environmental. Examples of where interfaces exist include:
Environmental Impact Assessment (EIA) – Owner/operators interface with a governing body for approval to proceed with the project, requiring input from multiple sources.
Main Pipe Rack Corridor – Multiple scopes of work being fed utilities and/or delivering processed liquids/solids/gases with multiple engineering and construction contractors dependent upon the completion and connection to the main arterial pipe rack.
Packaged Unit – A key supplier's packaged processing unit within an engineering and construction contractor's scope of work.
Interface points can be internal (within a scope of work) or external (existing between different scopes of work).
Interface management encourages contractors responsible for work packages to communicate and share information and deliverables amongst each other. Technical information such as pressure and flow rates, process flow diagrams, battery limit tables, the timing of construction activities, and testing is just a small sampling of the information and documents that must be shared and exchanged between scope packages to manage project interfaces successfully. Successful risk management hinges on the coordination and timely completion of these activities and deliverables.
While it is encouraged and necessary to support open communication channels, it is essential to keep an eye on the baseline schedule to ensure potential misalignment of deliverables, tasks, or activities are brought to the attention of key stakeholders.
Too often, the interface information is not systematically compared to the project's schedule. As a result, projects run the real risk of interface-related schedule risk going undetected.
The Importance of Integrating The Project Schedule
Integrated scheduling is a critical component of effective project risk management. Defining and publishing an integrated master schedule provides a standardized way to communicate new and existing tasks to all work package owners. Through an integrated schedule, the viewers can identify the ideal project plan and easily make necessary changes.
Project schedules will have hundreds or thousands of activities. And your interface management system will also be tracking hundreds or thousands of interfaces. It may be unrealistic to try to represent all interface activities and relationships in the schedule.
With the challenge of achieving this level of integration, projects are looking at alternatives. The logical choice is integration between the project schedule and interface management. The schedule tracks the higher-level milestones and activities; while the interface management system monitors the specific interface deliverables between the various project participants.
Linking the interface details to the schedule milestones will bring projects an increased level of awareness and provide the transparency needed to ensure that interface-related activity aligns with the schedule.
Early visibility of potential schedule issues (e.g., out of sync dates discovered in the Work Schedule Discrepancy Report) is key to giving the project management team the lead time needed to mitigate the risk in the project.

Reach a Higher Level of Risk Mitigation in Project Management
The size and complexity of projects will continue to grow. With the move away from the traditional nomination of a single EPC to joint venture consortia, project management contractors (PMCs), specialist fabricators, multiple engineering, contractors, etc., there is an increasing number of interfaces between different stakeholders and differing contractual arrangements. The increase in collaboration drives significant importance to manage the project schedule effectively.
1. Projects have an increased need for predictability and cost containment
The result is that project teams must be highly effective, flexible, and have access to all related information to remain on top of things before they become serious issues. If projects are considering the project schedule without interface activities, they are missing significant sources of critical project information.
2. Transparency is a key factor in project execution and delivery success
The additional transparency provided by bringing together the key project management disciplines of schedule planning and interface management will further equip project managers, planners, and interface managers with additional information to identify potential schedule risk early.
A successful integration strategy ensures a project's interfaces and activities are on track and sync with your overall project schedule.
3. Effective risk mitigation in project management is a significant contributor to project success.
Poor communication, poor scope definition, and failure to clarify expectations are all significant focus areas for project risk management. Having an interface management system (IMS) drive improved scope delineation will reduce these risk factors. Incorporating an interface management strategy will facilitate communication and ensure clarity of expectations.
Integrating the project work schedule with the IMS will provide valuable data to identify early potential risk and provide a resolution when the scope is not well understood, and interfacing parties do not understand expectations.
If you do not have an interface management system, consider Coreworx Interface Connect. It is designed to give you the control and processes to easily identify interfaces, specify responsibility, improve project coordination, and mitigate project risk. Feel free to reach out and learn how Coreworx Interface Connect can help you mitigate risk in project management.

(Article updated Nov 2022)