Today's major projects are predominantly executed as multiple scopes of work by numerous contracting parties. This strategy creates a complex matrix of interfaces between contracting parties who have no contractual obligation to one another, but must collaborate to deliver successful projects. With each interface, the risk of integration issues between scopes of work increases. Interface management helps projects improve technical compliance and system integrity at interfaces which help to minimize integration issues across delivery teams.
(Skip right to demo video)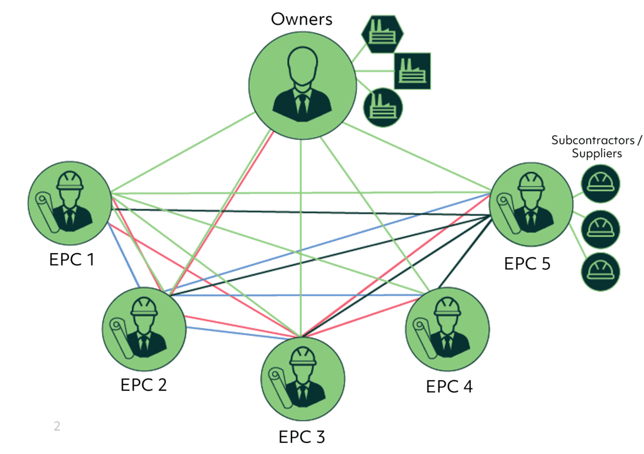 Figure 1: Complex matrix of interdependencies between contracting parties.
Technical Compliance & System Integrity
Achieving technical compliance and system integrity at interfaces helps teams ensure seamless integration across project execution.
Technical Compliance - Ensuring technical compliance project-wide means every team member works from the same design information, for example, regulations, governing documents, units of measure, and/or applicable international standards.
System Integrity - Achieving system integrity across a project means interfacing contractors align their designs during planning in an effort to ensure all scopes of work are designed for seamless integration at execution.
Reaching these two goals requires interfacing parties to collaborate on and align regarding critical interface design data, including interface operating conditions and technical design. Interface management provides a formal approach to getting this alignment across different scopes of work and/or areas of responsibility
Interface Operating Conditions & Technical Design
Within Coreworx, there are two processes that help teams ensure coordinated & consistent interface operating conditions and technical design: Interface Points & Interface Agreements.
Interface Points
Interface Points:
Identify scope packages / roles & responsibilities
Interface description
Record operating conditions/technical details by discipline
Track interface deliverables
Monitor schedule impact
Interface points ensure better scope delineation by defining scope split at contract boundaries. Each interface point provides a description of the interface, can optionally define the type of interface, and eliminates ambiguity by clearly identifying roles and responsibilities.
Key to mitigating interface related integration issues, interface points define and track technical design data (e.g., temperature, pressure, flow rate, etc.) by discipline. This helps ensure responsible parties understand what technical design data is required and, more importantly, forces alignment for a consistent design across all interfaces.
The technical data fields tracked for a given interface are determined by the project team and are typically unique by discipline. As the design progresses, the values for these fields are updated. As updates are made, Coreworx tracks a new revision of the interface point and the automated work process ensures acceptance by both parties to the interface and that all interfaces are managed in compliance to project procedures. Key stakeholders, including the project owner/sponsor, are kept informed and are notified as these updates are made.
Interface Agreements
Interface Agreements:
Related to an Interface Point
Tracks the exchange of information & deliverables
Committed "Need Date"
Records all interface details & "conversations"
Complete audit trail
While Coreworx interface points track and record the details of the interface itself, interface agreements are used to track the formal commitments (e.g. deliverables) and collaboration that's occurring as information is being exchanged between interfacing parties
Interface agreements are used to ensure that critical design, construction, and operation information is made available in a timely fashion to all interested parties. These formal 'commitments' are documented and tracked in Coreworx providing transparency and improving accountability.
As with interface points, interface agreements track a complete audit trail ensuring that all communication, key dates, and decisions made during the lifecycle of the interface are recorded for future reference. Project owners can be directly involved in the interface agreement process or take a more passive role in receiving notifications as events occur to stay informed.
Evolving Interface Details
Interface data is often exchanged as first preliminary, and then finalized as the design progresses. Key to successful integration is ensuring technical data at the interface is not only agreed to up front, but is also tracked over time and visible by all stakeholders across all project phases. To help ensure stakeholders are kept informed, Coreworx Interface Management software provides automated notifications and alerts. These alerts are triggered by events in the system (e.g. updating agreements), removing the need for stakeholders to remember to send notifications as well as deciding on who should receive each notification.
In addition, multiple revisions of each interface point are maintained to ensure integrity and visibility to all decisions over the life cycle of the interface. As part of this process, the key technical data tracked is made available as the interface point transitions to the construction phase.
Interface Verification Meetings
Another important means to mitigating integration issues is facilitating regular interface verification meetings. Using the Coreworx online interface register, project teams can easily identify interfaces between two interfacing groups and quickly pull up a list of the interfaces that are applicable to those parties. They can then review each one individually to ensure completeness and accuracy before the interface transitions into the next phase of the project.
Ensure Seamless Integration at Interfaces
Projects need to ensure all contracting parties are aligned to ensure technical compliance and system integrity project wide in order to prevent situations where poorly controlled interfaces have a negative impact on the project. Coreworx interface points and interface agreements can help projects achieve this. To see these in action, watch the brief demo video below or request a demo with our interface management experts today.
Related Reading: