Today we are proud to announce the release of Proarc EDMS 7.4. This release provides new tools that will help users work more efficiently and view visual drill-down metrics.
Configurable Dashboard
A new configurable dashboard provides teams with easy access to summary reports and visual charts of the stored documents. Using the new dashboard, users can view key performance indicators (KPIs) and vital metrics at-a-glance and then drill-down to underlying details directly from the dashboard. Users can set the new dashboard as their home page for instant access every time.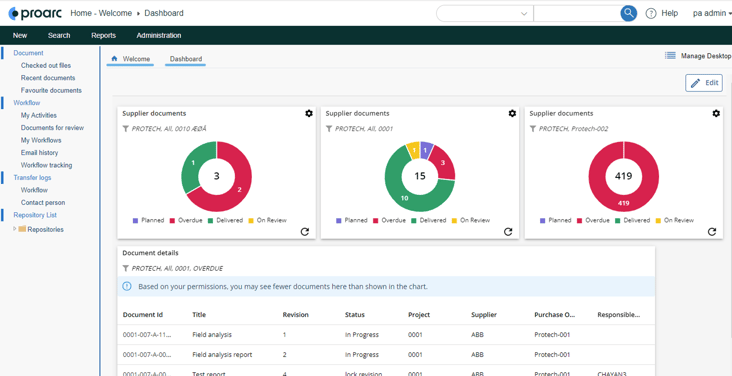 Proarc's new configurable dashboard.
Proarc 7.4 offers two information widgets (with more on the way) that can be configured for the dashboard:
Supplier Documents Widget
The Supplier Documents widget provides a visual summary of the delivery status for a set of supplier documents in a repository. Results can be filtered by Project, Supplier, Purchase Order, and Responsible.
The Document Details widget lists the documents associated with the segments of the Supplier Documents widget. For example, when the user clicks on "Overdue Documents" in the Supplier Documents widget, the Document Details widget lists all overdue documents for that segment. Clicking the document names from this list opens the selected document in a separate tab.
Note: The Dashboard is an optional add-on.
Bulk Update Revision Metadata
In Proarc 7.4, the Result list's "Edit mode" has been extended with the ability to bulk update revision metadata in the same spreadsheet view used for bulk updating document profile metadata. With this enhancement, users can bulk update revision attributes, simultaneously create new revisions, and manually or automatically copy files from the last revision to the new revision.
To make this possible, the "Result List View Column" options now include a "Revision Columns" section. The revision attributes are shown in green and document profile attributes are shown in blue to help easily distinguish between each in the result list.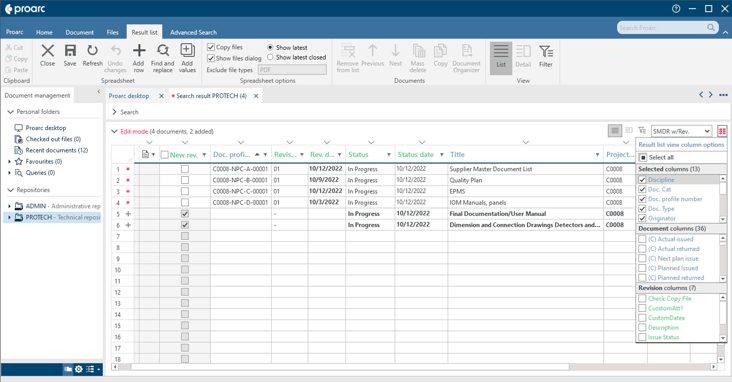 AutoCAD Xref Support
The AutoCAD xref support feature provides the ability to add DWG files with xrefs to Proarc and add references to the database. When opening or downloading the DWG file, the registered xrefs will automatically download together with the main file. Automated import and registration of xrefs will also be supported in a future release.
Note: AutoCAD xref support is an optional add-on.
Ascertra Updates
As announced in July, Proenco has now become Ascertra, and branding updates are being applied across the company and all products. Look for Proarc's new logo and branding updates that will gradually be added to all components of Proarc EDMS.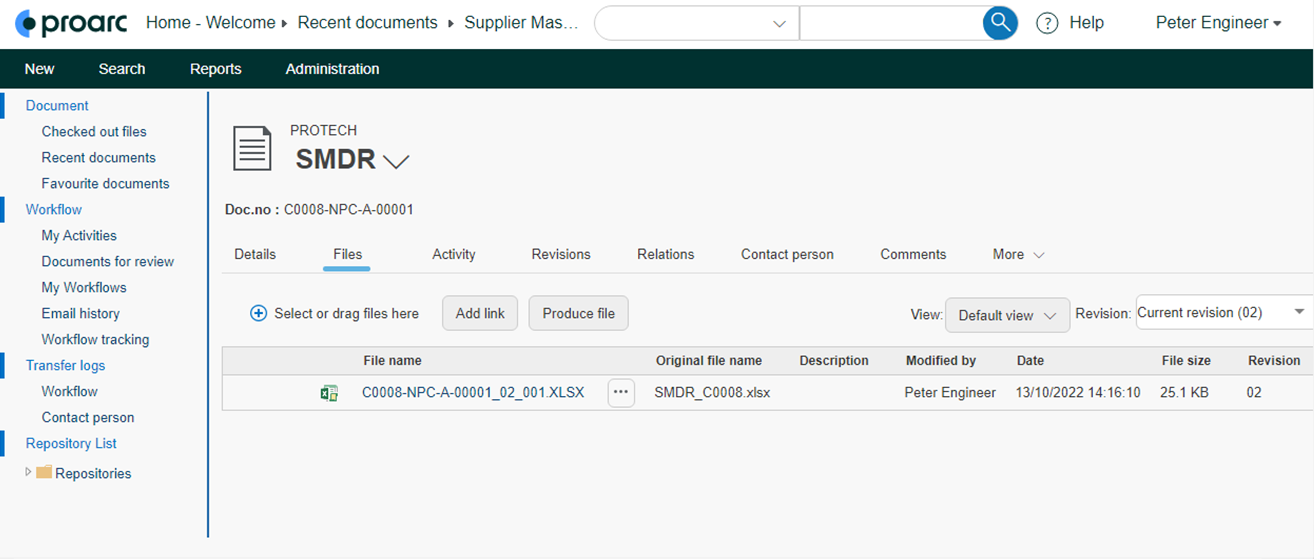 More Information
If you have any questions about Proarc 7.4 features or how to access this release in your existing Proarc application, please contact us.