In 2018, Vela Software acquired Proarc EDMS software in Oslo, Norway, followed by Coreworx, the information management software company, in Kitchener, Ontario.
The origins of these acquisitions can be traced back to a single company some 20 years ago where they developed software with shared DNA before separation in 2005.
And today, on July 1, 2022, we are extremely excited to announce that Coreworx and the Proarc division of Proenco are merging to form one powerhouse of an information management company called Ascertra!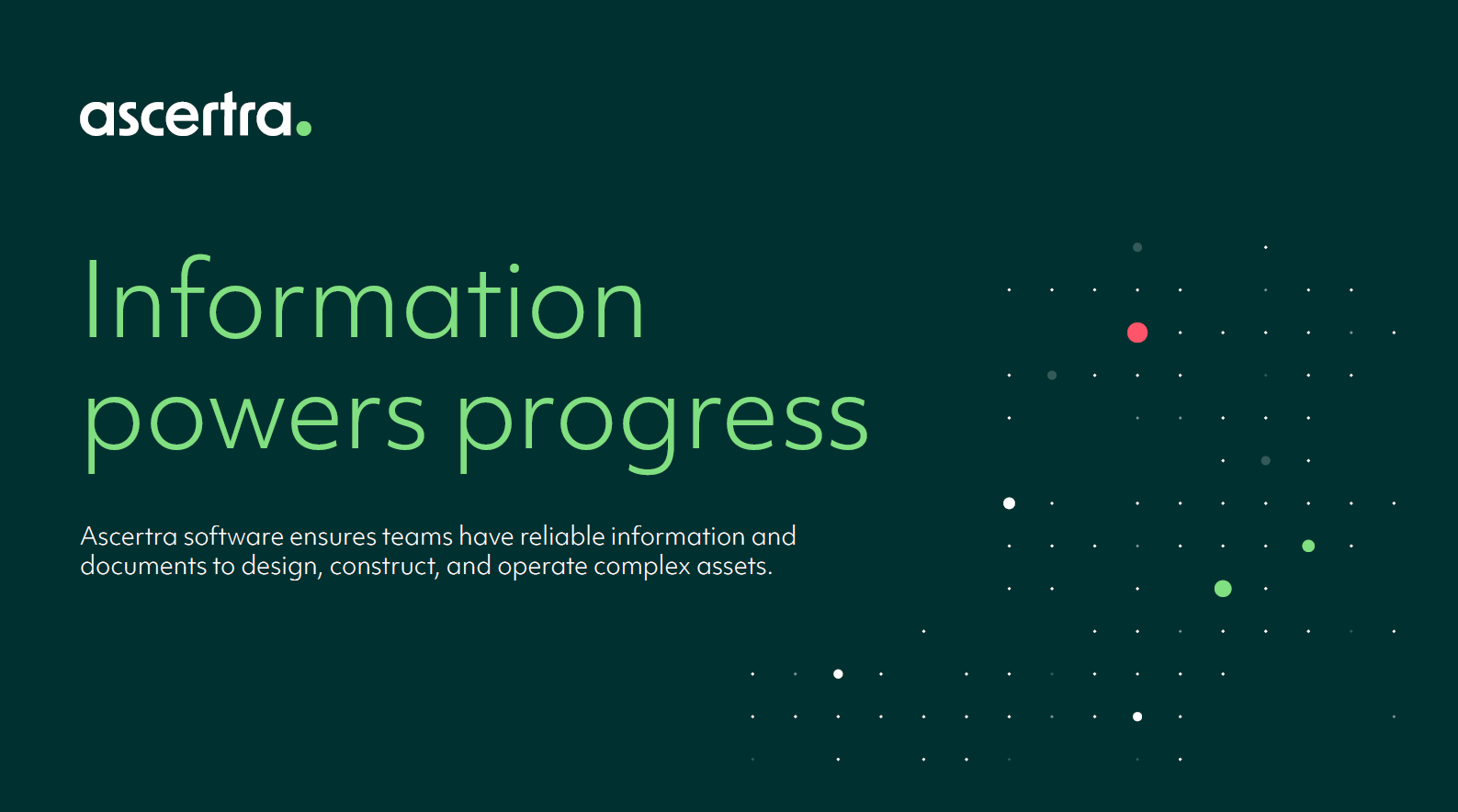 As one Ascertra team, we bring nearly 40 years of combined experience developing and delivering proven information management solutions to customers around the world. Ascertra will progress the strengths of Coreworx and Proenco into the future by continuing to provide customers with purpose-built tools designed to reduce information management risk while meeting the evolving needs of today's customers.
The new company name "Ascertra" blends the themes of assertive; the act of taking action, of finding out and knowing, and ascertain as a confident statement of fact. The goal of Ascertra is to offer peace of mind when managing information to help our customers manage their information and unleash the power of their information so they can deliver quality projects and operations free from error.
Information Powers Progress is the mantra of Ascertra. Each member of the Ascertra team understands that reliable information is the center point to every phase in a successful project from design to build to handover and operations. Ascertra software will provide project sponsors and asset owners with certainty that each team member and stakeholder in a vast ecosystem is aligned and using reliable information to make sound decisions and execute successful actions every time.
The strategic formation of Ascertra does not mean Coreworx and Proarc will disappear. Ascertra will continue to deliver the following proven solutions with focused investment and resources driven to extend the value these solutions provide to customers:
Ultimately, combining our experienced teams results in a deeper strength of resources in all business functions across Ascertra. From product development to solution implementations, and ongoing support, our combined forces will enable us to to take the solutions and support we deliver to the next level. Using Ascertra solutions, customers will be able to build solid information management practices that empower quality teams with reliable information. Reliable information will help you deliver on promises and develop predictable quality projects that lead to more business and increased returns.
As we embark on this new journey, we are excited about taking our combined solutions to the next level and proud to be part of an outstanding organization with so many experienced and talented colleagues. We look forward to supporting our customers' information management requirements today and into the future!
If you would like to hear more about Ascertra and our plans that will take our clients forward, please contact us, we are happy to share the details.