Trust is hard to build and easy to destroy.
In the world of megaprojects, engineering and construction document management, unattended problems or mistakes have a way of cascading through a project and leaving stress, cost overruns, and late deliveries in their wake. To establish the kind of trust that provides future work and opportunities, you need to consistently deliver the level of quality that makes everyone's life easier.
Poor construction document management revision, mistakes on naming and numbering conventions, etc. all reflect poorly on your team.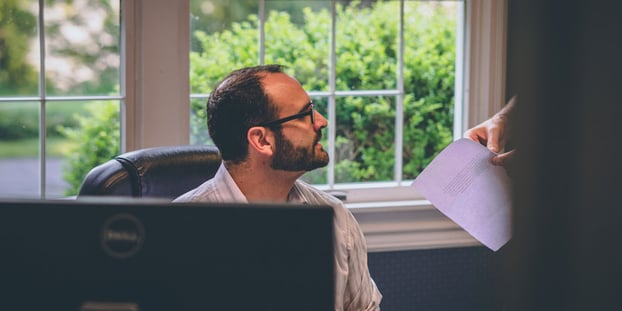 That's where an EDMS can add significant value to your operating capabilities and help you create a positive reputation in the industry and with your clients. Mistakes on document contacts, dates, numbering conventions, etc. all reflect poorly on your team.
While ideally having the right electronic document management system (EDMS) should help prevent these mistakes, oftentimes it is these same systems that end up causing them.
Using an EDMS to Ensure Audit-Ready Status
An audit is a powerful tool to maintain work quality, accuracy, and timeliness. You want to make sure your software informs you of the journey your documents have taken and where they are going when the project is finished.
If your EDMS is too rigid, however, some mistakes will be inevitable.
When your work is inspected (either internally or by the client), you should have confidence that the EDMS you're using has the flexibility and configurations to meet the needs of the client and the project. When a client discovers something wrong with a document that you should have caught before you delivered it, it's an embarrassment and gives a poor impression of your company's work standards.
An audit-ready project employs an EDMS that can quickly answer questions such as, "What is outstanding?" and "What is overdue?" That's why it's important your system offers you the control your team needs to maintain such quality.
As you (or your document controller) handle a variety of projects for several different clients, it's easy for some documents to get lost in the shuffle. An EDMS with at-a-glance reports and dashboard notifications helps prevent this.
Drive Accuracy & Project Completion in Construction Document Management
The key component to remaining in control and passing audits is reliable information.
This is how you and your client gain confidence that all projects and documents are being taken care of. If even just one file is missing or mixed up, it can jeopardize the client's entire project.
This is why you should invest in an EDMS that can keep you informed as to what files are missing, incomplete, or simply running behind completion. You need this critical information in real-time throughout the entire project's lifecycle.
Having heads-up notifications and daily, visual reports make your project audit-ready so when clients or document controllers inspect the work, they will be impressed and well-pleased at the progress you made.
What sort of EDMS can you trust to be audit-ready?
You'll want to be using one that gives you control through information. You'll want one that is flexible with the capability to be configured to the needs of each individual project. You'll want one that lets you know how far along you are in the process and remind you to which documents need review.
You'll want Proarc by Ascertra.
Remain Audit-Ready with Full Control Over Projects with Proarc EDMS
Proarc is the go-to, audit-ready EDMS that you use to manage your projects with confidence. All of the best features that keep up the quality and control you need in your project are found in this revolutionary EDMS.
With Proarc's total-team solutions, your entire company fully knows the status of all of your technical documents so that when your clients receive the finished project, they get exactly what they ordered, without mistakes or missing documents. Discover what Proarc can do for you when you schedule a demo!
If you'd like to learn more about the 7 Steps of a Document Lifecycle, check out the rest of the series here.