 Blog
5 Interface Management Principles to Follow for Project Success
Principles are the rules that guide our behavior. Project management principles provide a framework for project teams and support new agile and hybrid methodologies used to drive project success.
Adopting a principle-driven approach to Interface Management (IM) is key to successfully managing the complexities of interactions across stakeholders as well as the ambiguity inherent in project interfaces. Adopting the 5 Principles of IM helps simplify your project's start-up and improves the success of your interface management program overall.
The 5 key principles of interface management:
Establish a Governance Model
Implement Early
Commit to Ongoing Execution
Continuously Monitor & Measure
Include Interfaces in Closure & Project Handover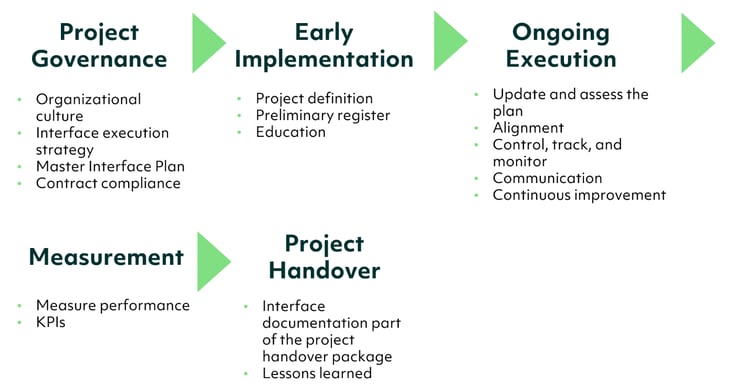 Principle 1: Establish a Governance Model
Project governance is the set of rules, procedures, and policies that determine how projects are managed and overseen. Interface management professionals establish a governance model through the development of the Master Interface Plan (MIP).
The MIP defines the policies and procedures for managing project interfaces and ensures alignment across key interface stakeholders.
Establishing guidelines for stakeholders is a vital component of interface management governance. Stakeholders must understand the expectations of the project owner. Be sure to include answers to the following questions in your MIP:
Who are the key stakeholders?
How do I communicate with other stakeholders?
Where and when are meetings held?
How are interface issues escalated?
What happens if a new interface is identified?
How are interface documents and drawings shared?
What

interface management software

will support our program?
Principle 2: Implement Early
The best time to implement interface management is during the Front-End Planning (FEP) Stage. This includes everything from initial interface analysis to the beginning of a Master Interface Plan, to the development of a preliminary interface register.
Including interface analysis as an essential activity completed in FEP will provide a sound understanding of scope, dependencies, and interface networks.

Figure 1: Interface Management Project Lifecycle
According to the Construction Industry Institutes' (CII's) research on interface management, '…early identification of interfaces will lead to a better understanding of potential project risks and promote project success." The practice of identifying project interfaces early on provides greater visibility of common boundaries, creating better alignment between project teams and stakeholders.
Principle 3: Commit to Ongoing Execution
Interface management is an iterative process. Do not expect to 'set it and forget it.' It requires ongoing commitment, alignment, collaboration, and meetings. It is very likely that, even after the development of the interface register (FEED deliverable), additional interfaces will be identified.
In an ideal world, 80% (or more) of interfaces are identified during FEP, and before contract award. However, once the contracts are awarded and the work begins, stakeholders may identify new interfaces requiring approval as they may introduce a new scope and potentially result in a change order.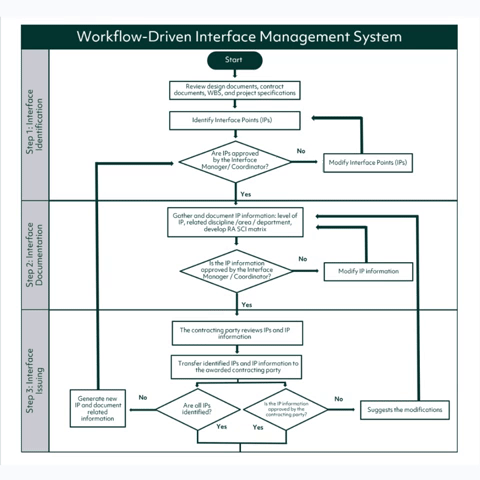 Figure 2: Interface Management Continuous Process
Principle 4: Continuously Measure & Monitor
Interface management professionals need accurate data to make quick, fact-based decisions. Tracking progress and measuring performance must be a firmly established component of your process. Key Performance Indicators (KPIs) should be defined and used to measure the health of your interface program. They provide a way to communicate with stakeholders, and a means to detect and address problem areas early.
Common interface KPIs include:
Number of overdue interface agreements
Average turnaround time for interface agreements
Number or percentage of interface points identified after FEED
Number of change orders related to project interfaces
Number of interface points with no interface agreements


KPIs also allow us to identify potential trends and develop 'proactive' corrective action plans. Trends related to late interface deliverables is a measurement that can identify problem areas including but not limited to:
Areas with a high degree of complex scope
Increases in scope
Underperforming contractors
Schedule discrepancies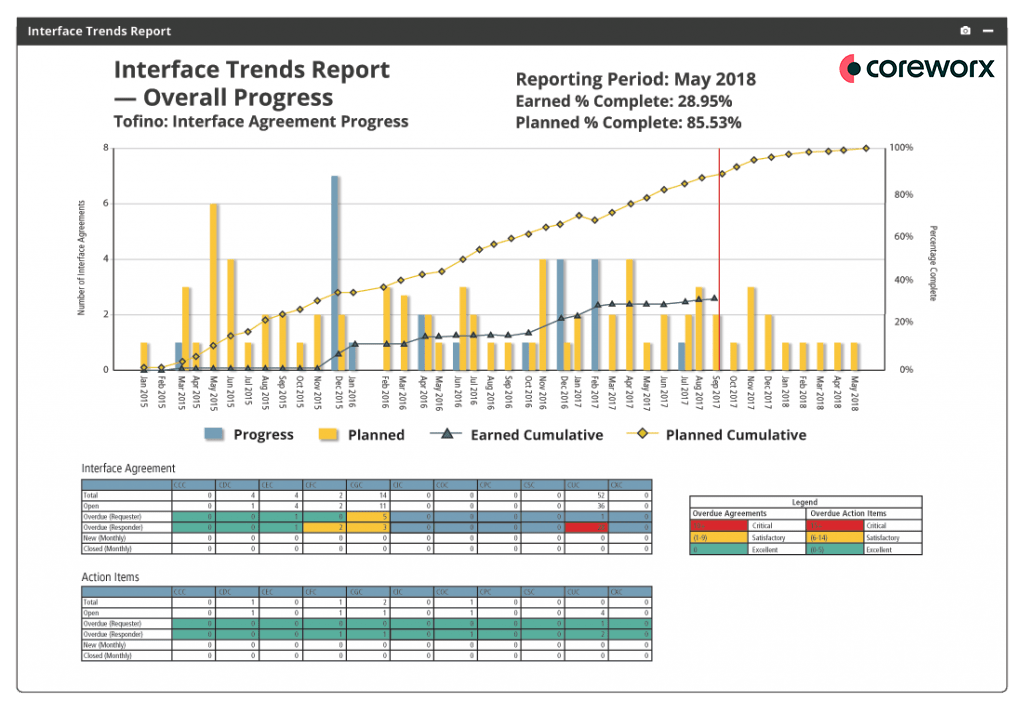 Figure 3: Interface Trends Report
Methods used to mitigate these risks include:
Establishing contract incentives
Regular interface meetings
Identification of interface dependencies
Early identification of high-risk interfaces
For more information on the importance of KPIs and the characteristics of a healthy interface program, see our webinar on Advanced Project Insights with Interface KPIs.
Principle 5: Include Interfaces in Closure & Project Handover
The requirements for interface closeout and handover will vary from project to project. At a minimum, all interface points, interface agreements, and related files should be included in the handover package to the client.
Interface closure and project handover should also include:
Close-out of hard and soft interfaces

Ensure all interface issues have been resolved and all interface deliverables received

Transfer of all interface points and interface agreements

Inclusion of all file attachments and reference documents

Closure of the online interface register
Lessons Learned Report
Summary
Effective interface management will not come without challenges. Lack of stakeholder alignment, scope ambiguity, poor communication, and lack of visibility can all lead to late deliverables negatively impacting your project. But following the 5 principles of interface management will help overcome potential issues such as these. Improving the processes and technologies used to deliver your capital projects will help make these principles a reality and, in turn, reduce the impact of these challenges.
Each principle will have an impact on three critical success factors: the business process, the tools, and the people. These will serve as a solid foundation for your interface management program that spans the full project life cycle.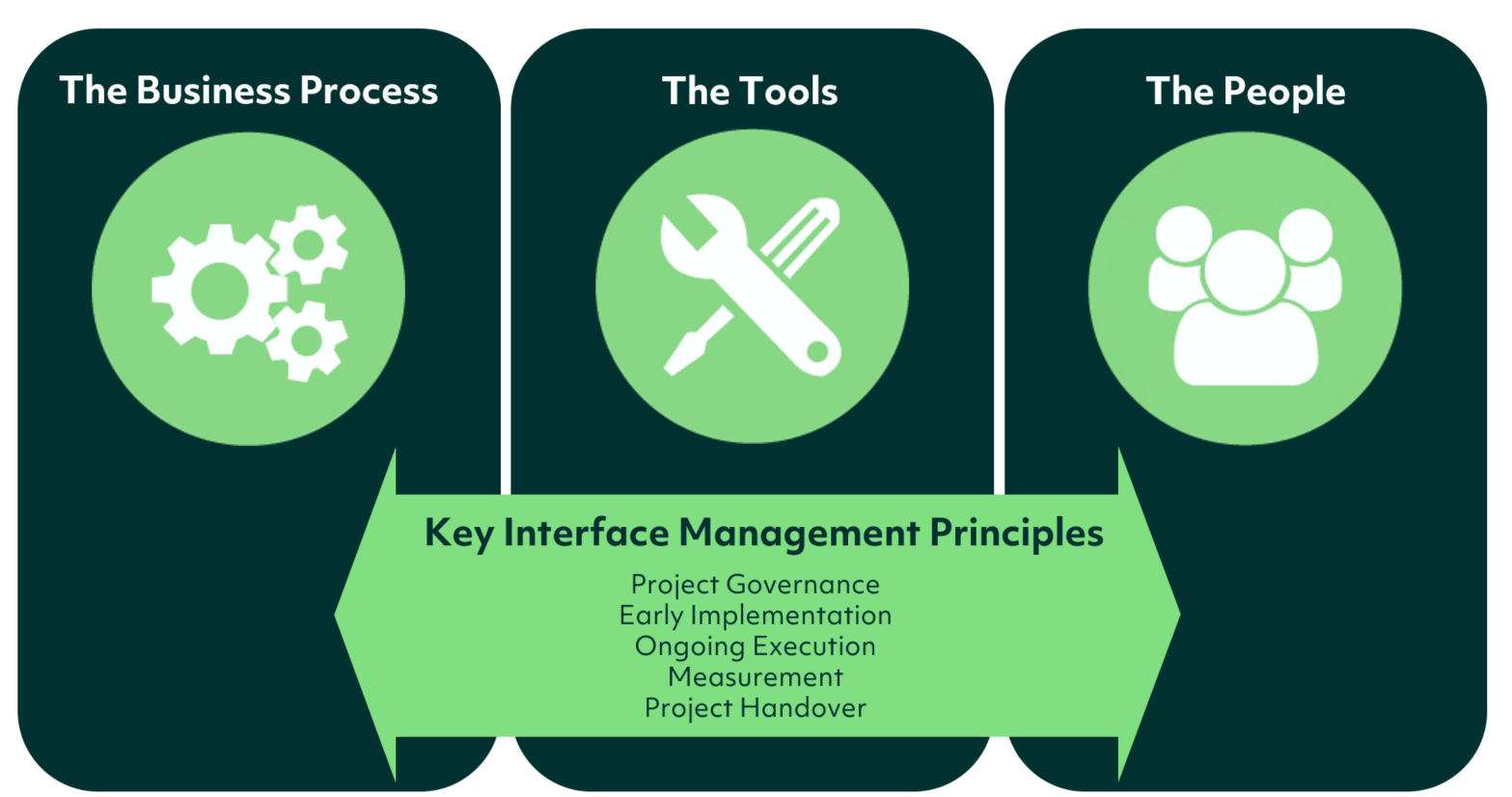 Figure 4: Critical Success Factors for Interface Management
Supporting Your Interface Management Program
Whether interface management (IM) is a new concept to you or you already have an IM program in place, our Coreworx IM SmartCheck workshop can help you gain a better understanding of the IM practice and identify how to implement or optimize your program for the best results.
If your interested in learning more about our Coreworx IM Smartcheck program, contact us now to receive and information package.