Interfaces have been identified as a top-10 risk to projects and can lead to hundreds of millions of dollars in losses if not managed effectively. The main objective of interface management activity during the project execution phase is to align system interfaces across different scopes and responsibility boundaries as early as possible in the project development. While informal interface management has always been a key project management practice, some decision-makers still think interface management can be accomplished ad hoc with little planning, organization, or the proper tools.
However, with the size and complexity of megaprojects today, the number of delivery teams involved, and the high-risk interfaces represent, it's become clear that proper planning and investment in interface management is required and that expectations, of both the owner and all delivery teams involved, are better met with a defined interface program and a strong framework.
Projects don't go wrong, they start wrong."
Bent Flyvbjerg, Heuristics of Masterbuilders, (discussing adequate front-end planning)
Implementing a successful interface management practice begins by completing a Master Interface Plan (MIP) that formalizes the governance of your practice. Plans are the starting point of all projects, but the degree and quality of the planning may differ and can be cut off prematurely in the wrong belief that it will save time. But the reality is – taking the time to plan will drastically improve the chance of success overall – for budget, quality, safety, and time.
The Master Interface Plan (MIP)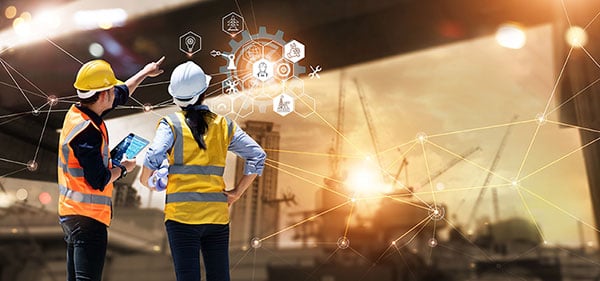 A single set of rules that formalize team alignment on the management of project interfaces
The purpose of the Master Interface Plan (MIP) is to provide a single set of clear and consistent rules to properly identify, manage, and facilitate the resolution of all interfaces and avoid scope gaps/overlaps or integration issues between interfaces during the development of the project. With project delivery teams often located in different countries, with different languages, cultural differences, and varying engineering standards, your Master Interface Plan becomes an essential tool in ensuring alignment.
What does the MIP include?
The Master Interface Plan defines your interface execution strategy and should include the following:
1. Project Overview & Interface Objectives
Master Interface Plans start with a project overview, then continue to describe the objectives of the interface management program. For example, objectives may include:
Define & agree on the contractors' and company's responsibilities with respect to interfaces

Provide a framework and clear process to identify and manage interface and system integration issues

Maintain technical integrity for systems crossing contract boundaries

Ensure technical data is shared in a consistent, timely, and efficient manner between all parties

Ensure there are no gaps or overlaps associated with the project scope

Avoid interface omissions or duplications

Avoid potential disputes between interface stakeholders
As a bonus, you begin to develop a culture of shared ownership. Delivery teams have a shared goal of meeting the project objectives. Teams understand the end goal, what the plan is to achieve this goal, and how their contributions impact this goal.
2. Procedures for Managing Interfaces
Policies and procedures are defined to ensure all stakeholders understand how interfaces (both internal and external) are identified, tracked, and managed to completion. This section provides clear instructions that lead to consistency in how interfaces are managed, issues are raised, and conflicts are resolved. It also includes the communication strategy, reporting requirements, and escalation procedures.
Topics covered in this section include:
Interface Numbering

Interface Management Process

Project Interface Management System (IMS)

Identifying New Interfaces

Interface Agreement Process

Change Management Process for Interfaces

Interface Meetings

Conflict Resolution
3. Roles and Responsibilities of Key Stakeholders
Defining roles and responsibilities sets expectations and outlines who is responsible for what, not only for the external delivery teams but also for company responsibilities. To manage interfaces, contractors are designated as either the Lead or Interface Contractor with responsibilities defined specific to each depending on the interface. Responsibilities can include the following:
Attending regular interface meetings (along with information regarding meeting frequency and attendee expectations)

Ensure information recorded in the Interface Register is up-to-date, accurate, and complete

Communicate and cooperate with other contractors on all interface issues to ensure overall design integrity and performance of the overall shared system

Propose effective solutions or additional scopes of work for the interface activities where inputs are not available

Create and maintain all design documentation (drawings, engineering lists, schedules, specifications, etc.) related to their scope of work for the shared system

Participate in process reviews, as required, and ensure resolution of comments that relate to their scope area

Provide access to interfacing contractors for inspection/testing where and when required

Appoint Interface Coordinator/Manager responsible for interface process maintenance, communication, coordination, and reporting.




4. Interface Scope Matrices and/or Registers
The Interface matrix defines scope boundaries at a high level; it identifies who interfaces with who and can be defined by scopes of work and by discipline. The interface register is a table listing the interface points (defined to date), each with a description, defining attributes, and a summary of responsibilities for the various project phases including design, procurement, construction, and pre-commissioning. When a contracting party is awarded the contract, all the identified interface points and related information is transferred to that party.

Figure 1 Sample Interface Matrix
5. Key Definitions and Terms
With global projects, including definitions, acronyms, and terms is key to ensuring understanding. Implementation of interface management programs still varies from industry to industry with common definitions and terminology nuances. Even the definition of an interface can vary from one project to another. With globally dispersed project execution the norm, definitions help to ensure that everyone is "speaking the same language" (Morgan, J. E. (2000) "Speaking the same language.")
A Living Document
The Master Interface Plan is a living document that will continually evolve. You must regularly reassess it to ensure the actions you are currently taking contribute effectively to the end goal. Foster active discussions during your global kick-off meeting and on a regular basis. Listen to the feedback of your interface delivery teams and adjust as needed.

To help you get started on a new Master Interface Plan or optimize an existing plan – download our Master Interface Plan Outline.
Summary
Adopting a formal interface management process is essential to mitigating interface-related risks to your project. Interface management formalizes collaboration across shared scopes of work. It also acts as your early warning system, establishes your governance model, and develops repeatable processes to be used on future projects.
Establishing a formal interface management program that provides a proven environment of effective collaboration will not be without its challenges. Still, the results are well worth the effort and your Master Interface Plan is a key first step!
"All that happens if you hit the ground running is you fall. A good start is a slow start, with time to think things through before delivery, so you don't fall. Thinking is cheap while action is expensive."
Bent Flyvbjerg,
Heuristics of Masterbuilders.