With the advent of cloud computing, the tension between hardware performance and software accessibility was finally resolved.
Rather than having to install bulky software on various computers and ensuring hardware and operating system requirements were able to handle the computing tasks, programs can now be accessed via the Internet—also known as the cloud—through nearly any device. This is known as Software as a Service (SaaS). The burden of hardware now lays with the host server, rather than the individual computer.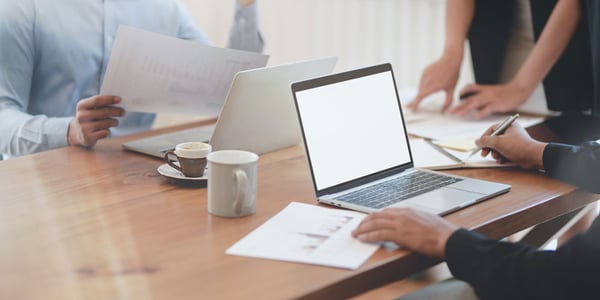 How Cloud-Based Document Management Software Impacts Technical Documentation
This development has been huge in the world of Enterprise Document Management Services (EDMS) because companies can now work and collaborate from nearly anywhere. If you're like most engineering and construction project managers, you're wondering what qualities to look for in a cloud-based document management software that can securely and efficiently enable you to manage your technical documentation with ease.
In this blog, we'll discuss how to look for a cloud-based EDMS and the benefits of employing this type of solution for your engineering & construction projects and asset operations.
Employing Cloud-Based Document Management Software Is Convenient & Easy
When migrating your project to the cloud, you want to make sure you're entrusting your work to a competent server and support team. You shouldn't have to worry about constantly updating software—this should be done automatically!
Additionally, you should never feel left in the dark when it comes to navigating new software. The software you purchase should guarantee a strong customer service team using a reliable cloud server such as Microsoft Azure, which will ensure your documents are readily accessible and your software is thoroughly supported and up-to-date.
Migrate Data & Integrate a Cloud-Based System Quickly with a High-Performing EDMS
Any EDMS service running through the cloud should also contain all of the features and accessibility you've come to expect in your local software.
Migrating to the cloud should never limit the functionality of your EDMS, rather it should expand it. The best cloud software will allow for the easy upload of existing files and should incorporate those files and their appropriate metadata with ease. The software should also be able to link with your existing email service to make sending and receiving documents of various file types to and from vendors and clients convenient and easy.
From here, you'll want to assign documents to the different team members and track their progress. With this being done in the cloud, progress can be detected immediately and from anywhere rather than solely at your local office. You can manage hundreds (if not thousands) of documents with the ability to filter through and measure progress at-a-glance.
These value points are crucial to getting your project done on-time and on-target. By assigning workflows within the EDMS, team members know exactly what is assigned to them, when it's due, and who will be reviewing their work.
How To Start Using Cloud-Based Document Management Software For Technical Documents
Proenco had already demonstrated themselves as a leader in the engineering world by developing Proarc, an EDMS made for Engineering, Procurement & Construction (EPCs) projects. With Proarc Online, the same great software and support behind Proarc 7 is now available on the web in the form of SaaS.
To see all the great solutions available to the cloud-based version of the program, check out our recent webinar to see if this is the solution you've been looking for.