Proarc ProView
[ Proarc EDMS Add-On ]
Proarc ProView add-ons help teams designing, constructing, and maintaining large capital assets efficiently view, mark up, and convert documents directly from the Proarc EDMS via a web-based viewer.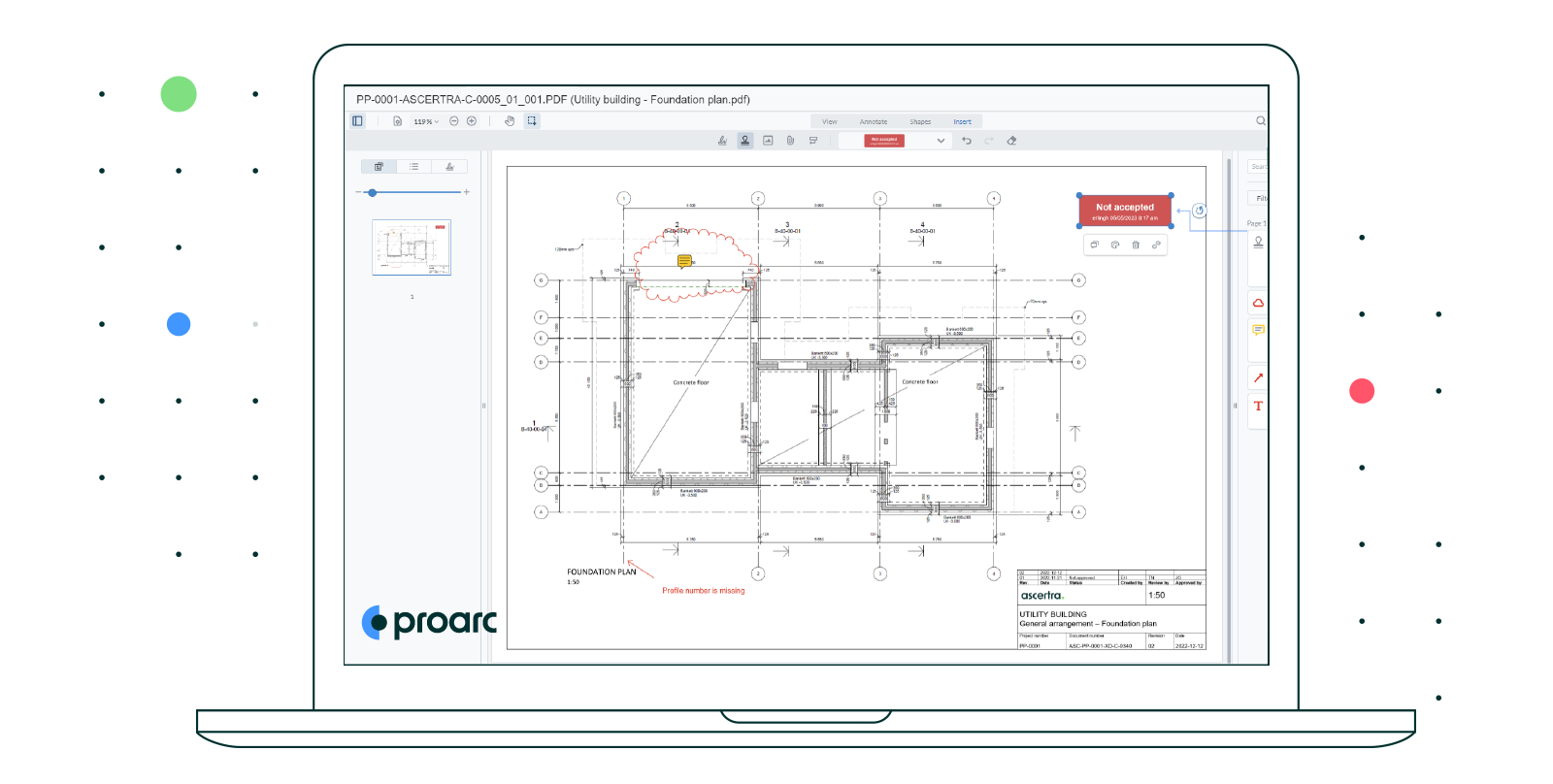 Proarc ProView allows team members to apply concurrent annotations to PDF renderings and see the real-time markups being provided by others displayed consistently across web, desktop, or mobile as they are added.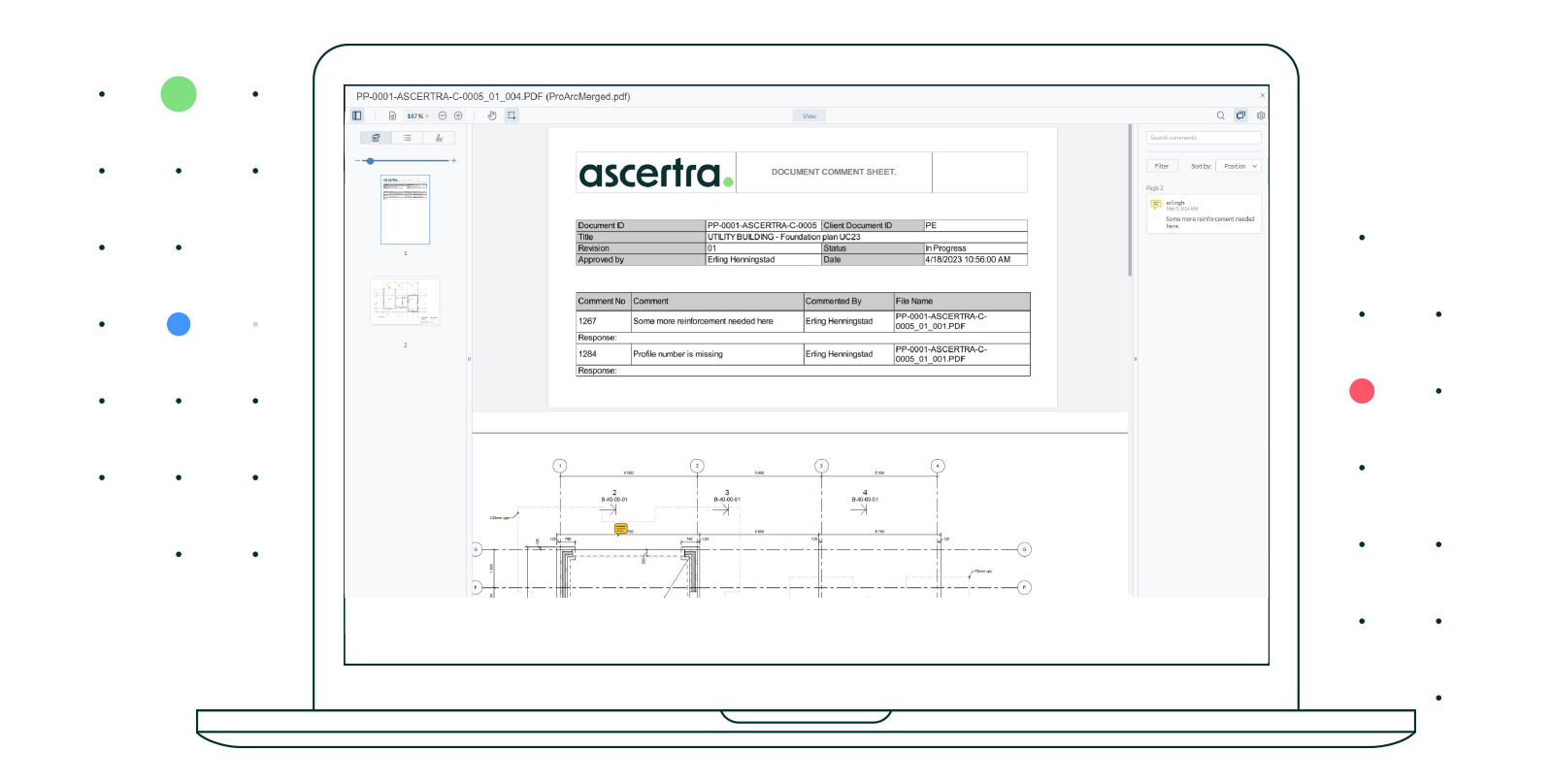 Improve review quality & clarity
Increase team productivity
Reduce collaboration risk
Reduce additional software costs
Proarc ProView Capabilities
---
Proarc ProView provides a range of add-ons that benefit teams with a broad list of features and capabilities, allowing for reduced risk and improved productivity in all aspects of document management.
High-Performance Inline Viewing
Quickly render numerous file types, no matter how complex, for fast, high-quality inline viewing across web, desktop, and mobile.
Extensive File Support
All common file types are supported including AutoCAD design software.
Exceptional Viewing Controls
Zoom, rotate, overlay, Quickviews, multiple and split windows, thumbnail and preview support, view selection, bird's eye view, magnifying cursor, layer control, pen table manipulation, and watermark printing.
Measurement & Calibration Tools
Measurement, snap point, ortho, etc. for take-off measurements on drawing file.
Optimized for Mobile
Get all view and markup capabilities optimized for mobile screens including touch screens.
PDF Generation
Automatically convert files with associated markups to PDF files for printing, emailing, and distribution. Convert files on demand or based on a configurable rule.
Supports Microsoft Online, AutoCAD, and standard image formats.
Multiple Markup Types
Annotations and markup options include links, notes, configurable stamps, drawing tools, e-signatures, etc.
Individual User-Attributed Markup Elements
Markups are attributed to users and can be filtered by the user.
Real-Time Collaboration
Concurrent markups allow multiple users to add
comments simultaneously.
Advanced Contextual Markups from Workflows
Access ProView from workflow activities to add markups to files for added context as opposed to adding comments to a separate workflow form field.
Distinct Annotations & Markup
Markups are managed independently and stored in Proarc as comments separate from, but associated with, the file being reviewed.
Markup Consolidation
Markup from multiple users can be gathered into one consolidated level.
Audit History
A record of all markup activities is stored in Proarc.
Comment Sheets
Automatically generate PDF files with all document comments, plus the marked-up PDF source file and a generated table of contents on the first page. PDF files are automatically imported to the DMS repository at the correct revision for recordkeeping.