Document Organization and Control is at times an overwhelming task.
There are many approaches to storing data that have worked well in the past. In today's highly interactive and collaborative environment we find it is critical to not only manage and store data, but also to provide rapid retrieval, controlled access to documents based on approval levels, and assurance that revision levels are accurate.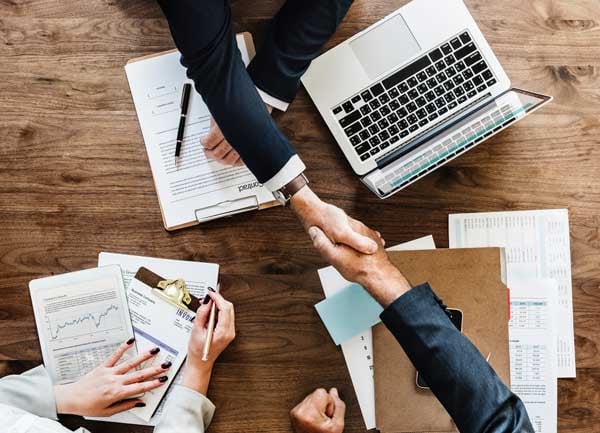 Data Management Models Vary By Industry
The data management model you choose will be different depending on the various contexts your business operates in.
For technical documentation in construction projects the data models are typically based on industry-specific coding and numbering manuals such as:
NORSOK (Z-DP002) for oil and gas
EN 61355 for the process industry
EN 15380 for the Rail industry
SFI for maritimeoffshore ships
For other types of documentation such as corporate documents, contracts, human resources other data models will be needed.
The data model, in its simplest form, can be described as the metadata that you wish to use when you tag your documents. Companies have traditionally done this by using folders and various folder structures.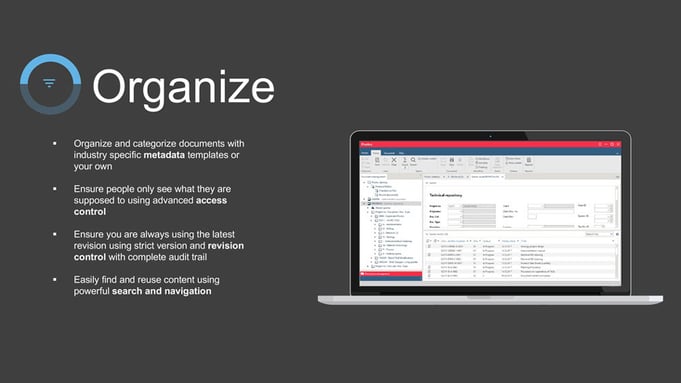 Metadata Based Software Has Document Organization Advantages
In many organizations it is difficult to determine how to organize documents that are produced by engineering, consumed by sales, may belong to multiple projects and may need to be shared across organizations all while maintaining revision control and secure access.
Traditional folder structures were designed for the storage of static documents, and the document organization scheme forced you to choose one path to access the document. There may be many logical paths, but only one will retrieve the needed document.
Users must be trained in how documents are organized, and individuals need to be highly disciplined to maintain a usable storage structure. All too often we see that this is not the case and people start creating their own folders and as a result the structure breaks down.
The risk organizations face is that people do not find the document they need. Other times they may find and use an outdated revision. Both risks can be damaging and costly to your organization.
Metadata-based data models allow you to link documents to multiple data categories and easily retrieve it later using virtual folders or search.
The advantage is that users can use their logic and context.
There is no need for extensive training or rigid enforcement of the structure.
Metadata-based data models are easy to govern and maintain.
Chaos is reduced.
Time wasted trying to find and verify the correct documents are significantly reduced.
The ability for document collaboration across functions and even between companies is dramatically improved when on-line internet-based software options such as Proarc are utilized.
Access Control:
Being organized also means controlling who can see, modify or approve the documents.
Traditional solutions may be limited to defining access control thru the folder structure. This drives content to be defined and managed by access and not by the logical description of the data. This approach drives a complex and unmanageable amount of special folders inside the logical folder.
The advantage of metadata-based data models is they enable you to abstract the access control to metadata resulting in a document control model which is more flexible and easier to maintain.
Revision Control:
Being in control means knowing that you are working on the latest revision with visible trace ability of previous revisions, changes, and approvals. With traditional document control systems, there may be some risk of working with an outdated revision.
Collaboration across organizations requires assurance that revisions are documented and communicated in real time.
Efficient organizations demand a level of confidence that the system will automatically trigger revision updates based on approval workflows or other events.
Proarc metadata-based document control software does an exceptional job of revision control. Features you will find on Proarc software include:
Functionality to define revision codes & set access rights on revisions
Compliance with the strict standards and requirements for construction projects
Use of standard revision codes or functionality to define your own, whether global or per project
Automatically update revision codes based on workflow status or other triggers
Use controls to make sure you are distributing the right revision to the client
Control access by defining who can see which revisions, for instance allowing some users to only have access to the latest revision.
Keep a log on all actions and events performed on the revision level
Search & Navigation:
Finding the documentation you are looking for becomes easy with a Metadata-based software model such as Proarc.
Search Advantages:
Use metadata search or full-text search.
Create shared or personal queries
Use sort, filter and "group by" functionality in document lists
Use "Favorites" and "Recent documents" to quickly access most used documents
Navigation Advantages:
Create shared or personal virtual folder structures based on your Proarc information model
"Place" documents in multiple folders by linking to metadata, i.e. a contract can be in both the project folder, contract folder and customer folder.
Create multiple virtual folder structures
Total control with Proarc means Document Control, Process Control and Progress Control. If you have an questions feel free to reach out and contact us!