LEM Solutions - D
riven by Mpower Software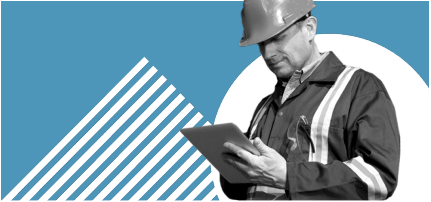 A leading oil & gas owner/operator implemented Ascertra's Mpower project controls software to manage their entire site Labor-Equipment-Materials (LEM) data collection, validation, approval and processing at their Fort McMurray, Alberta facility. This was a very important and strategic project for Ascertra as the LEM solution is not only a localized solution but one being positioned as a corporate standard for LEMs management – therefore opening global doors.
History and Business Challenge
The specific customer uses SAP as its back-end business management system. Traditionally all of their sub-contractor costs for Labor-Equipment-Materials (LEMs) were uploaded into SAP via Service Entries. This old process was very manual, prone to errors, inefficient, and failed to deliver the level of information and controls required to manage ongoing operations and projects. Recognizing these deficiencies, the owner/operator's challenge was to implement:
A 'front-end' solution that can collect, validate and approve all LEMs at a controlled level
A solution that fully integrates with SAP and enforces all of the SAP business rules, e.g., delegation of authority (DOA) approval limits and purchase order (PO) expiry dates
A solution that fully integrates with the SAP Purchase Order and Outline Agreement sub-systems, thereby delivering full job costing data to the LEM Approvers
A solution that's embraced by sub-contractors by making the administration of LEMs easier and the overall management process more automated and efficient
Ascertra's Mpower software was the system of choice!
Ongoing Operations and Projects
Historically the LEMs data uploaded into SAP was summarized to such an extent that it was of little value for ongoing operations and project control purposes. Indeed prior to the implementation of Mpower, many hours were spent analyzing the data in SAP and Excel in order to determine actual man-hours and costs by craft against Work Orders and Network Activities.
With the introduction of Mpower Project Control & Cost Management Software, together with a set of craft classifications, the system now delivers the required information on demand.
Mpower Integration
In terms of acceptance, ease of use and simplicity of adoption, the owner/operator wanted their sub-contractors to enter their LEMs directly into Mpower or alternatively be able to load Excel-based files. To support the loading of Excel files, an Mpower toolkit was deployed. The Mpower generic bi-directional integration tool is used to read Excel, API, Web Service, XML and database-to-database data.
The graphic below shows how Mpower's integration tool is used to transfer Human Resources and Accounts Payable data from and to SAP and to also upload KPI data from SAP (or other back-end financial systems) via file or web service transfers. The integration tool is used to transfer approved LEM data to SAP in the form of Services Entries. Standard Service Entry approval processes are then performed in SAP.
Irrespective of how the LEM is entered into Mpower, the same validations, controls, and workflow processes are applied.
Enhancing the Footprint
The owner/operator currently only uses a portion of Mpower's application footprint. The plan is therefore to build upon the current dataset in Mpower to show the full strength of the application in terms of true portfolio, program, and project cost and performance management.
Support
Mpower is supported by Ascertra's global support organization. With offices now spread across the world, Ascertra is able to provide continuous support.
In Mpower, the information is made visible on standard reports as well as on the Mpower interactive dashboards as illustrated in the following graphic.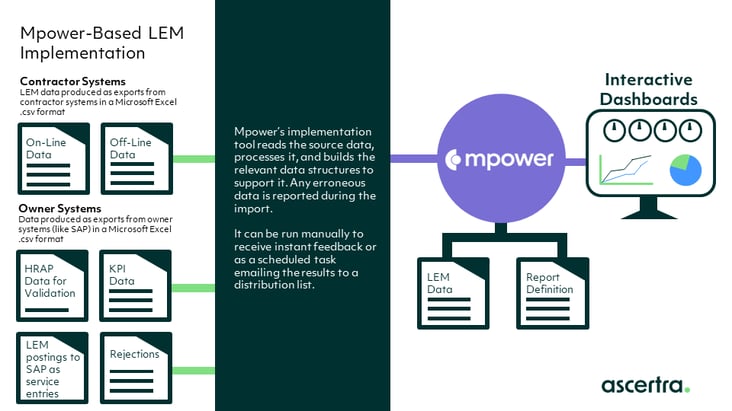 Process Summary
In order to optimize efficiencies and improve business performance in this area, the owner/
operator implemented Ascertra's Mpower software to support the following process:
Record all LEMs in Mpower, verifying data accuracy of work orders, network activities,
work breakdown structures (WBS), cost centers, internal orders, labor rates as well as the vendors' material and equipment codes
Based on DOA levels, eLEMs are dispatched to the appropriate technical approval authority

Once technically approved, eLEMs are forwarded to the appropriate financial approval authority


All of these processes are controlled using the Mpower workflow engine and users are alerted via email and application notifications that actions are required

Escalation processes are built-in if eLEMs are not approved in the required business timeframe

Financially approved, fully validated eLEMs are posted in real-time to SAP as Service Entries

At all stages in the process, eLEMs may be rejected, re-positioned in the workflow or even revoked should the transaction need to be reversed in SAP

Learn More
Looking to learn more about Mpower software and how it can help you better manage your Labor-Equipment-Materials (LEMs) data? Contact us now to speak with one of our project control and cost management solution experts.
(Updated Feb 2023)